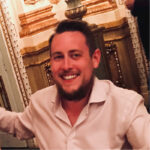 BUSINESS DEVELOPMENT MANAGERS - HR, EMPLOYMENT LAW AND HEALTH & SAFETY
We would like to introduce Croner HR, a company we have recently partnered with to be able to provide a cost efficient outsourced HR and Health & Safety services to our valued clients - a service that we at Pay Check have implemented for our own team of superstars!
Martin & Tasha both have many years experience in a variety of business services; since 2018 their primary focus has been helping companies with HR, Employment Law and Health & Safety.
Through cost effective advice and packages designed for the SME market, they can help business owners and leaders with a range of issues, including reducing employee sickness and absence, providing benefits to their staff, and protection against tribunals and health & safety prosecution. Croner can also assist with drafting employment documents and letters.
Croner specialise in businesses ranging from 1-50 employees where legally employee contracts, processes and Health and Safety policies and procedures are still a requirement but having a whole department to do this or outsourcing to a legal firm proves costly. They also provide 24/7 advice on both HR and Health and Safety as well as legal representation should you ever need it for employment tribunals, all included in a small monthly fee. Employment law changes twice a year, how sure are you that everything is up to date?
If you are not sure or in need of some HR advice please do get in touch via the below email - quote PAYCHECK and you will receive exclusive discounts on any services you take up!
Martin Vodden- Martin.Vodden@croner.co.uk
Tasha Sewell- Natasha.Sewell@croner.co.uk
It is important that you do not contact through any other method other than the above two contacts as otherwise you will potentially lose the discount on the provided services that you could receive through your status as a Pay Check client!
Particular areas where Croner HR can assist include:
There may be different considerations for individuals assigned to a country for several years compared to the need of individuals assigned for a few months, with different levels of remuneration, benefits and support; Gill can advise on the best course of action for each group.
As well as dealing with the personal tax aspects of working overseas, Gill can also assist employers with agreeing specific payroll procedures with HMRC to make the operation of the UK payroll as smooth and pain-free as possible. In addition, she has expertise in determining the correct social security treatment of an individual's move into or out of the UK, whether for a short or long period.​
_
Croner has a long history operating in the compliance market. The company was founded in 1941 with the name Croner Publications Limited, in 1947 the seminal HR bible 'The Reference Book for Employers' was launched, 1997 saw the introduction of consultancy services, and in 2003 the product portfolio was widened further with the introduction of software and pay and benefits services.
Today Croner is a world-class workplace business partner supporting thousands of businesses with HR, Employment Law and Health and Safety.
• We have over 70 years' experience in compliance support and systems
• Our consultants have an average of 15 years' industry experience
• We have a successful resolution in over 90% of Tribunal cases
• Over 100 Associations choose our services as a benefit to their members
Croner HR are rated 4.6/5 on review site Feefo and even include a whole host of free Employer resources on their website!
View our offices in London and find the contact details for your nearest office.
You can contact us by sending us an email or calling us directly.
Learn more about us and find resources that will help you with all of our products.