Benefits that go beyond the payslip
The workplace has changed significantly in recent years. Today, the most talented people are no longer looking for the highest wages. They are actively seeking out the best employers instead.
Compete, succeed, grow
Having the right employee benefits strategy in place will give your business the advantage to stay competitive, succeed and grow.
Recruit and retain
Managing an employee benefits programme is not the only job you have to do. That's why we will help you create a modern, relevant programme that will enable you to recruit and retain the best people with the least hassle.
A refreshing approach
Giving you a refreshing approach to employee benefits takes experienced eyes. Chase De Vere have been providing innovative independent financial advice since 1969.
We would like to introduce Chase de Vere.
Chase de Vere have been one of the country's leading independent financial advisers for 50 years. Some of their clients have been with them for decades. That is because, as well as offering high-calibre, unconstrained advice, Chase de Vere continually strive to make sure their clients are satisfied. Their financial advice spans a wide range of services including pensions, wills, care funding and wealth management as well as business protection, employee benefits and workplace financial education.
Rebecca has been an adviser with Chase de Vere since 2001 and is a senior member of their Corporate Advisory division.
Based at their Leicester office but with clients nationally, Rebecca works with UK and multinational employers and their employees advising on a wide range of employee benefit solutions.
Rebecca has worked with Pay Check since Auto Enrolment started to effect Pay Check's clients back in 2014, and helped to set up Pay Check's inaugural pension service with Legal & General.
Rebecca is the winner of the Most Inspiring Returner Award in the Women in Financial Advice Awards 2019.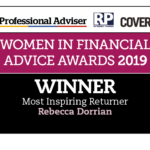 Particular areas where Rebecca can assist include:
There may be different considerations for individuals assigned to a country for several years compared to the need of individuals assigned for a few months, with different levels of remuneration, benefits and support; Gill can advise on the best course of action for each group.
As well as dealing with the personal tax aspects of working overseas, Gill can also assist employers with agreeing specific payroll procedures with HMRC to make the operation of the UK payroll as smooth and pain-free as possible. In addition, she has expertise in determining the correct social security treatment of an individual's move into or out of the UK, whether for a short or long period.​
_
Rebecca specialises in pensions and advising on the changes to pensions legislation affecting all employers in the UK, benefit benchmarking, the complexities of management buy-outs, and TUPE transactions relating to employee benefits and employee benefits for start up companies.

In partnership with Pay Check, Rebecca is currently offering a Pensions Healthcheck service at the exclusive low fee of £199.00 for our clients - you can find out more in our brochure here.
Check Your Pension Health With Chase De Vere
This article was kindly written by our trusted partner, Corporate Consultant, Rebecca Dorrian.
View our offices in London and find the contact details for your nearest office.
Pay Check Ltd.
First Floor, Battersea Studios 2,
82 Silverthorne Road, London, SW8 3HE
You can contact us by sending us an email or calling us directly.
Learn more about us and find resources that will help you with all of our products.