To encourage people to save for the future, the government introduced new pension legislation via the Pensions Act 2008 known as automatic enrolment. Automatic enrolment makes it mandatory for UK employers to complete several duties - these include automatically enrolling certain workers on to a qualifying workplace pension scheme.
Initially, The Pensions Regulator (TPR) allocated each employer with a 'Staging Date' – this was the deadline at which the employer had to begin meeting their automatic enrolment duties. From October 2017, any new employers have immediate duties from the date that they hire their first worker. This date is known as their Duties Start Date.
There are three categories of worker defined under automatic enrolment rules. The process of categorising the workers is known as 'assessing'. An employer must assess each member of their staff, so they know how to treat them under automatic enrolment.
Aged between 22 and State Pension Age (SPA)
Earns over £10,000 a year
Aged between 16 and SPA or SPA and 72
Earns above £10,000 a year
OR
Aged between 16 and 74
Earns below £10,000, but above £6,240
Aged 16 to 74
Earns less than £6,240 a year
If none of your staff fall in to the eligible worker category you will not have to set up a pension scheme unless one of your entitled or ineligible workers asks to join a workplace pension. You will still need to write to your employees and complete your Declaration of Compliance.
In the current tax year (20/21), an eligible worker is someone who earns £10,000 or more per year and is aged between 22 and state pension age.
Any eligible workers must be automatically enrolled on to the workplace pension. These employees can only leave the pension scheme after first being enrolled.
The exceptions to the above are:
Employees with pension protection
Genuine Directors of a Limited Company
Genuine Partners of a Legal Liability Partnership
An eligible worker can ask their employer to exclude them from automatic enrolment if they can provide evidence that one of the above exceptions apply. If they do not ask to be excluded, they will be automatically enrolled.
In the current tax year (20/21), an ineligible worker is either someone who earns £10,000 or more per year but is not between 22 and state pension age or earns below £10,000 (but above £6,240) and is aged between 22 and state pension age.
An ineligible worker is not automatically enrolled but can ask their employer to enrol them if they wish to join the pension scheme – this is known as opting in.
If an ineligible employee opts into the pension scheme, the employer must also contribute to their pension scheme.
In the current tax year (20/21), an entitled worker is someone who earns less than £6,240 and is between 16 and 74 years of age.
As with an ineligible worker, an entitled worker will not be automatically enrolled but can ask to join the pension scheme if they wish to do so. If an entitled worker joins however, the employer is not legally obligated to contribute to their pension pot, although they may choose to do so.
Employers must write to all of their employees to tell them about automatic enrolment and include certain information including their right to opt into the pension scheme if they do not meet the criteria of an eligible worker.
They can choose to send different communications to their workers depending on the worker category that they fall into or send one communication which covers all the bases.
Communications must be sent to all staff regardless of eligibility. The ineligible and entitled workers must be given information regarding their right to ask to join the pension scheme.
All communications must be sent within 6 weeks of the Duties Start Date and then going forward, all new employees must be written to within their first 6 weeks of employment.
You can choose to delay automatically enrolling staff for up to three months. This is known as 'postponement'. However, you must still write to your employees within 6 weeks of hiring them and your communication must let them know that you have decided to postpone automatic enrolment.
Employees have the right to ask you to enrol them during the postponement period – this information must be included in the communication. The communication is also referred to as a postponement notice.
If an employee asks to join, the employer must enrol them. If the employee is eligible or non-eligible then the employer must contribute to their pension pot. If the employee is entitled, the employer does not have to contribute.
Employers cannot exclude eligible employees from automatic enrolment (other than the exceptions listed under Categories of Workers).
If eligible employees do not want to be part of the pension, they can opt out after they are enrolled. They will have a 30-day period to opt out of the pension scheme and receive a refund of the contributions they have paid into their pension. Most pension providers will send the enrolled employees a letter and accompanying welcome pack with details of their new pension as well as instructions on how to opt out (including the deadline for the opt out period - in general this will be 30 days from the date on the letter). With a few exceptions (notably Scottish Widows), most pension providers require employees to opt out with them directly. They then notify the employer so that the contributions can be refunded to the employee through the payroll.
After the opt out period has passed, an employee will be not be eligible for a refund but can ask their employer to stop any more contributions being deducted from their pay – this is known as Ceasing Active Membership. Some providers refer to this as taking a 'pension holiday'.
Declaration of Compliance
Declaration of Compliance
Within 5 months of their Duties Start Date, all employers are required to complete and submit an online form to The Pensions Regulator (TPR) to confirm they have met their auto enrolment duties. This form is known as the Declaration of Compliance.
Employers must continue to assess their employees each pay period so they can monitor any changes in their worker's circumstances (for instance, a worker earning above £10,000 may turn 22 which would move them in to the eligible worker category) and take the appropriate actions for any newly eligible workers or new staff.
Re-enrolment &
Re-declaration of Compliance
Three years from their original Staging Date or Duties Start Date and then every three years after that, employers need to automatically re-enrol any eligible staff that have previously chosen to leave the pension scheme. This is known as re-enrolment. The staff members can then decide whether they want to opt out again or stay in the pension scheme. Employees that have left the pension within the 12-month period prior to completing the re-enrolment can be excluded from the process.
Once this process is completed, an employer must then complete a Re-Declaration of Compliance and submit it to The Pensions Regulator.
Calculating the Contributions
How much an employer must contribute depends on how they define pensionable earnings - i.e. which elements of pay they include in their pension contribution calculation. There are four main earnings definitions that can be used for calculating auto enrolment contributions and each has a statutory minimum total percentage and a minimum employer percentage: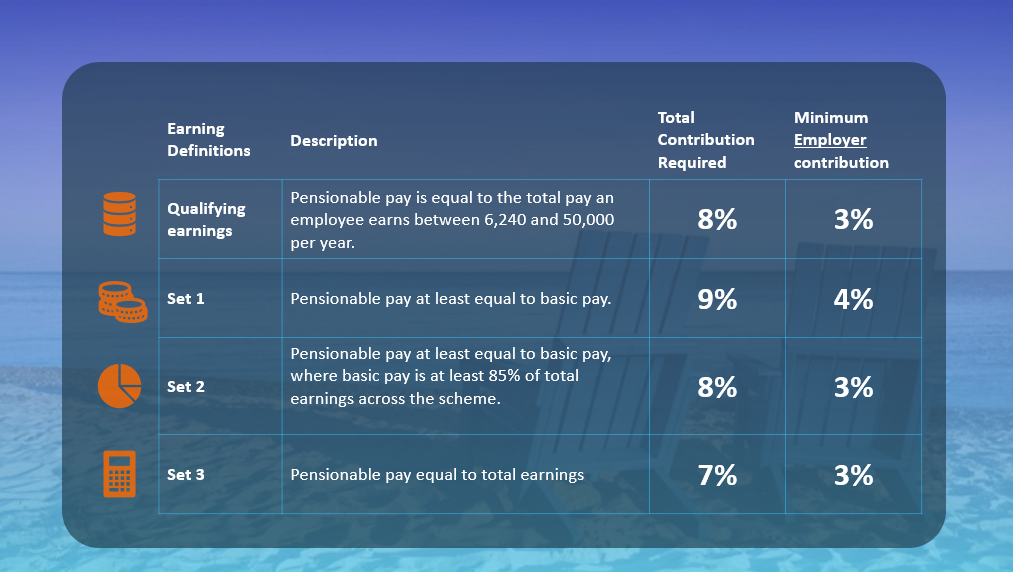 The employer must contribute at least the minimum employer percentage and the worker must then contribute the difference between their employer's contribution and the total contribution minimum.
This means if the employer chooses to contribute at a higher percentage, an employee may reduce their contributions accordingly. For example, if an employer using qualifying earnings increases their contribution from 3% to 4%, then the employee only needs to contribute 4% rather than 5%. This does not work the other way around; the employer must always contribute the minimum employer percentage.
You can find more information about the various earnings definitions that can be used for auto enrolment and the related minimum contributions here.
Most workers will receive tax relief on their contributions when they pay into their auto enrolment pension. What this means is that money that would have gone to the government as tax is put into their pension pot instead.
Tax relief can be applied in two different ways: Net Pay Arrangement or the Relief at Source method.
Relief at Source
Net Pension
If your pension scheme uses relief at source, it is a 'net' pension.
80% of the employees' contributions are taken from pay after income tax has been deducted. The remaining 20% is then claimed back from HMRC by the pension provider and added to their pension pot.
Under this method, all employees receive tax relief at the basic rate of 20% regardless of whether they pay tax. Higher rate taxpayers would need to claim their extra tax relief through their self-assessment.
Net pay arrangement
Gross Pension
Despite the name, the net pay arrangement applies to 'gross' pensions. This is where pension contributions are taken from pay before income tax is deducted. Therefore, the contributions are never taxed, and employees receive full and immediate tax relief even if they are a higher rate taxpayer.
However, employees who do not pay tax will not receive any tax relief under a net pay arrangement.
Some pension providers will allow you to choose which tax relief arrangement you want to apply to your scheme while some may only be set up for one type of tax relief.
Employers can make pension contribution deductions via a salary sacrifice arrangement. As per the guide provided for employers by The Pensions Regulator [i]: This is a contractual agreement between the worker and the employer by which the worker agrees to forego salary in return for pension contributions by the employer (the amount sacrificed is paid into a pension scheme by the employer in respect of the worker). As this amount is not subject to tax or NI, the employee receives full tax relief
Employees must agree to a salary sacrifice arrangement. It cannot be made a condition for auto enrolment. Any employers considering using a salary sacrifice arrangement for their automatic enrolment pension should discuss this with their pension provider to ensure that they can facilitate it.
View our offices in London and find the contact details for your nearest office.
Pay Check Ltd.
First Floor, Battersea Studios 2,
82 Silverthorne Road, London, SW8 3HE
You can contact us by sending us an email or calling us directly.
Learn more about us and find resources that will help you with all of our products.